Dress Code
All sixth form students at the academy are expected to adhere to the dress code, which has been discussed and agreed with the students.
We believe that a dress code based on the principles of a professional workplace strikes a balance between some degree of individuality, whilst promotes a positive image of the 6th form to younger students, parents, prospective employers, admissions tutors, the local community and visitors to the school.
The following dress code has been agreed and designed to suit all budgets.
The following dress code has been agreed and designed to suit all budgets.
Smart trousers – tailored trousers and chinos are fine. Tracksuit bottoms and jeans are not suitable.
Plain leggings and jeggings are acceptable only if worn under a skirt, dress or long tunic.
Skirts and dresses should be a length and style which maintain modesty.
Male students should wear a shirt with a collar – short or long sleeve is fine. Smart plain polo shirts are also acceptable. A tie is optional
Female students can wear a blouse or shirt. Shoulders and midriffs should be covered. Casual tops such as vest tops and T-shirts are not suitable.
A jumper, cardigan or jacket can be worn, but hoodies are not allowed.
Plain hats may be worn outside in cold weather, but baseball caps are not allowed
Sportswear should only be worn when taking part in sport (except school issue sports kit for sports students).
Plain dark-coloured sensible footwear should be worn. Hi-tops should not be worn and trainers with bright coloured trims and logos are not acceptable.
Slogans or logos which are large or inappropriate should not be worn.
Underwear should remain hidden
Jewellery should unobtrusive and kept to a minimum (one of anything is enough)
Tattoos and body piercings should be covered up
Presentations demonstrating acceptable dress can be found below.
The academy retains the right to act as the final authority on the interpretation of the dress code. If unsure, students and parents should consult the 6th Form Leadership team for clarification before purchasing an item. Students who arrive at school inappropriately dressed will be required to return home to change.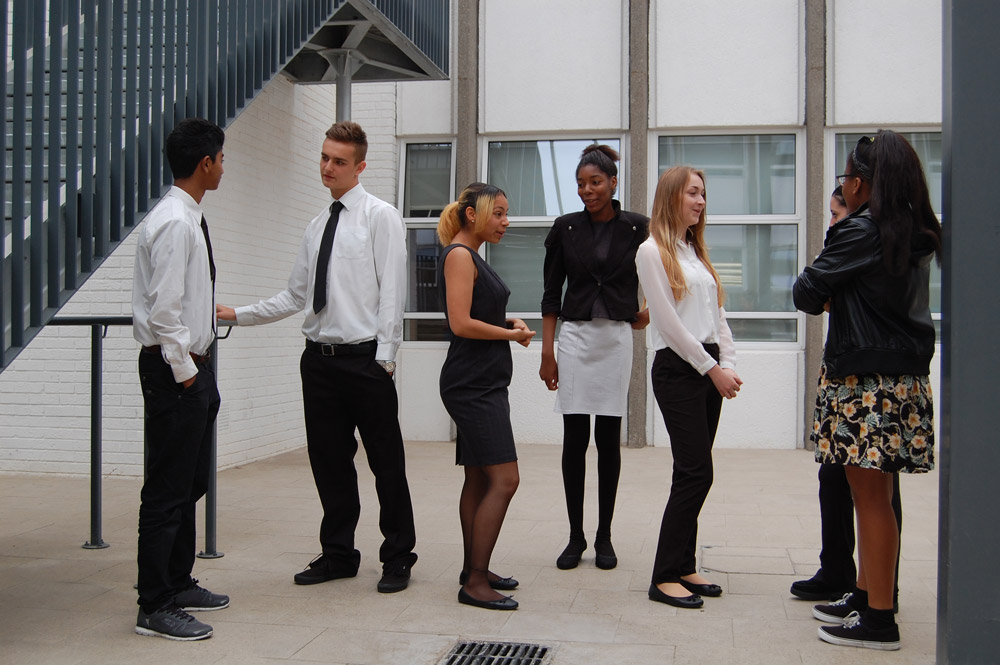 6th Formers are expected to look business-like, are you dressed for business?
Would you look out of place welcoming visitors in Southfields Academy Reception?