The Education Hub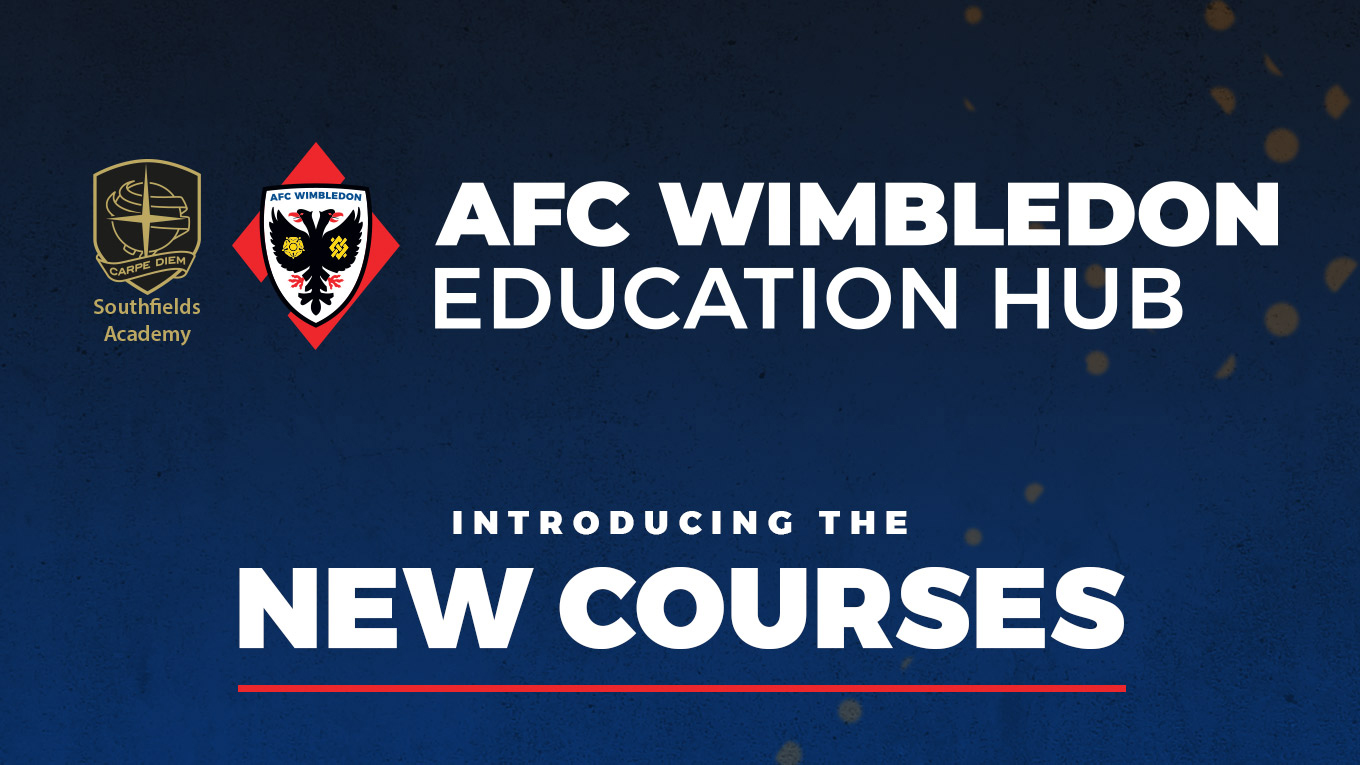 AFC Wimbledon Education Hub- Open Day
Open Day 3rd of March 4.30pm to 6.30pm
16- to 18-year-old- programmes
AFC Wimbledon Stadium- Plough Lane
Please come along for a guided tour of the facilities and stadium.
Presentation on the education programmes starting in September 2022
Q&A for parents and students
If you require further information on the Open Day
Email educationhub@afcwimbledon.ltd.uk
Education Hub: Courses on offer
Esports is one of the world's fastest-growing and exciting industries - and now's your chance to learn all about it as we prepare to launch our classroom revolution. And it only takes a click to enrol!
As reported already, we've teamed up with Southfields Academy to open an Education Hub here at The Cherry Red Records Stadium. Classrooms will be created within our new home - aimed primarily at students who may have struggled within the traditional school system but would feel motivated to study within our brand-new football stadium.
The Hub will open for the next academic year, starting in September 2022, and we can now reveal the first courses that will be on offer - including a BTEC Level 2 Certificate in Esports.
Aimed at helping students develop their knowledge and understanding of Esports games, teams and tournaments, the course will give an insight into how to set up an Esports organisation and the basics of streaming for Esports games. Once completed, the course can lead to an apprenticeship - or open doors in similar sectors like events management and digital marketing.
Alternatively, students excited at the prospect of a sports-based course can enrol for Level 2 Cambridge Technical Certificate in Sport and Physical Activity. This covers subjects like anatomy and physiology, fitness induction and testing, and the use of fitness equipment. Modern and relevant, the course has been developed in conjunction with employers and industry specialists, and aims to prepare students for further study, apprenticeships or even the workplace.
Students with a keener interest in how business works should consider Level 2 OCR Cambridge Technical in Business. This covers the skills required in industry and gives students an insight into the business sector, so they can acquire knowledge and practical skills in business administration, retail and customer service. They will also be able to develop their communication and team work prowess - as well as improve IT and literacy skills.
Finally, we will also be offering more traditional English and Maths courses which will be required for students who do not have a GCSE at grade 4 or above. Students must take a minimum of two courses but have the option to take all three. It must also be highlighted that there are no entry requirements to enrol on any other our courses.
To apply please start a new application through Southfields Academy.
Please email educationhub@afcwimbledon.ltd.uk for details on our Open Days.